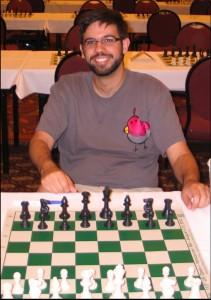 Josh Sinanan of Washington, pictured above, finished tied for 5th place with 3.5/5 after losing to co-winner Nick Raptis in the final round. Photo credit: Russell Miller.
The U.S. Open Weekend Swiss, the first side event of this year's tournament held August 4-5, was won by Nick Raptis of Oregon and Francisco Guadalupe II of Texas who tied for first with 4.5 points in five rounds. Yogi Saputra and Takuma Sato-Duncan, both of Oregon, tied for 3rd-4th with 4-1. Josh Sinanan of Washington, Carl Haessler of Oregon and Michael Goffe of Oregon were the Northwest players in the group tied for 5th through 9th with 3.5 points.
41 Players entered the event including 16 players from Oregon and 13 from Washington. The complete cross table can be viewed here.