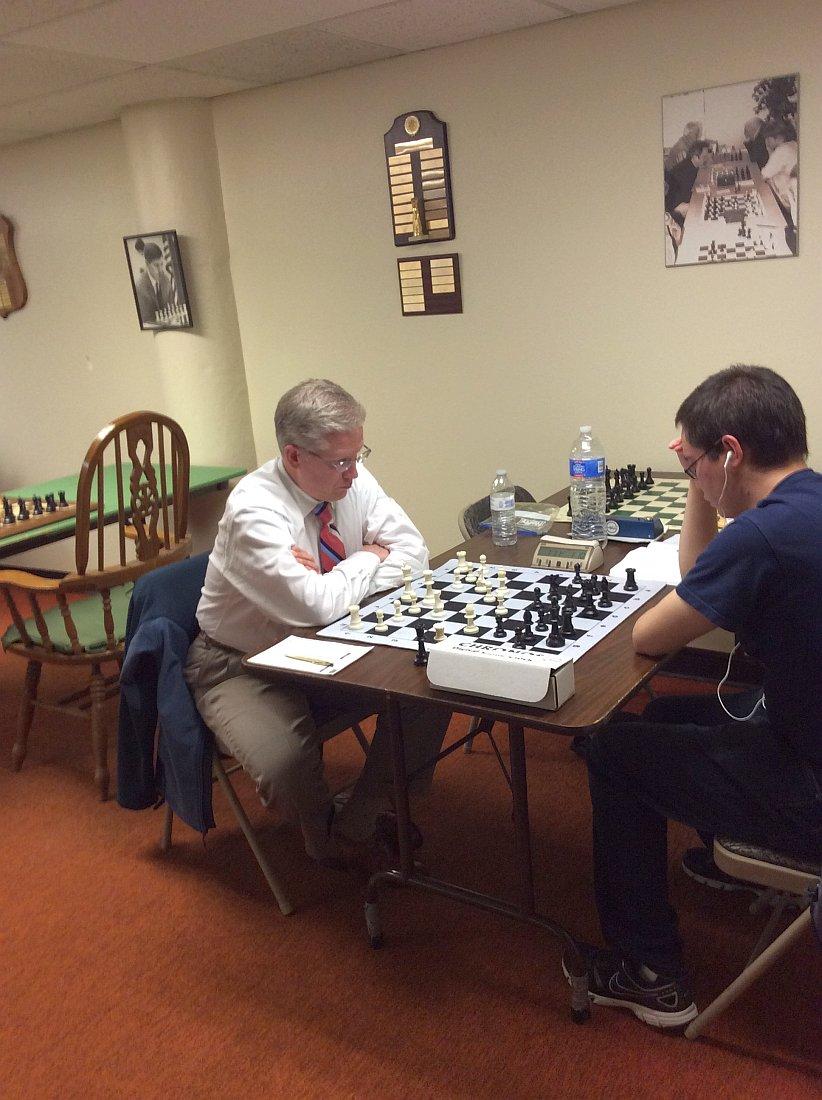 Extremely low turnout for the Tacoma CC March Semi-Class Saturdays forced the organizer, H. G. Pitre, to change the format to a single section swiss tourney which might as well be called an Open.
Low turnout continued for the Tacoma CC March Open Sundays. As a result, we are offering to admit up to twelve new players who want enter next weekend on either day with half-point byes for rounds 1 and 2, and join the field for round 3 for the cost of $30 in either tourney. If you choose to play in both events it will be just $55 total. You will have an excellent chance to win a prize in either event. The March Open Sundays prize specifications remain as before, The Semi Class prizes are now identified in this way: The first three prizes go to those over rated over 1800, and the second three prizes go to those rated under 1800 or unrated.
Please refer to the NWC either the magazine or website detailed tournament listing for the special terms.
Here is the wall chart of the proceedings so far.
TCC March Open Sundays — TCC March Open Sundays Wall Chart, Page 1
Name/State ID Group/Team Rate Rnd 1 Rnd 2
————————————————————–
1. FM Bartron, Paul |2108 | B 5 | W 4 |
WA 12590173 | | 1.0 | 2.0 |
————————————————————–
2. Bishop, Alan |2000 | — | B 7 |
WA 11311016 | | F0.0 | 1.0 |
————————————————————–
3. Olson, Travis James |1810 | HALF | B 6 |
WA 14841357 | | 0.5 | 1.5 |
————————————————————–
4. Buck, Stephen |1792 | B 8 | B 1 |
WA 10428700 | | 1.0 | 1.0 |
————————————————————–
5. Bashkansky, Naomi |1675 | W 1 | B 8 |
WA 14048474 | | 0.0 | 1.0 |
————————————————————–
6. Varner, Murlin E |1551 | — | W 3 |
WA 12460801 | | X1.0 | 1.0 |
————————————————————–
7. Dorfner, Gary |1210 | ZERO | W 2 |
WA 10511780 | | 0.0 | 0.0 |
————————————————————–
8. Taylor, Ron | 946 | W 4 | W 5 |
WA 14842387 | | 0.0 | 0.0 |
————————————————————–
TCC March Semi-Class Saturdays — TCC March Semi- Class PremierWall Chart, Page 1
Name/State ID Group/Team Rate Rnd 1 Rnd 2
————————————————————–
1. NM MacGregor, Michael Scott |2228 | B 5 | W 4 |
WA 12418627 | | 1.0 | 2.0 |
————————————————————–
2. FM Bartron, Paul |2108 | W 6 | B 3 |
WA 12590173 | | 1.0 | 2.0 |
————————————————————–
3. Bishop, Alan |2000 | B 7 | W 2 |
WA 11311016 | | 1.0 | 1.0 |
————————————————————–
4. Olson, Travis James |1810 | W 9 | B 1 |
WA 14841357 | | 1.0 | 1.0 |
————————————————————–
5. Buck, Stephen |1792 | W 1 | B 9 |
WA 10428700 | | 0.0 | 0.5 |
————————————————————–
6. Tu, Robin Li-Yang |1642 | B 2 | W 7 |
WA 13714563 | | 0.0 | 1.0 |
————————————————————–
7. Yang, Richard |1515 | W 3 | B 6 |
WA 14365082 | | 0.0 | 0.0 |
————————————————————–
8. Hasuike, Mike K |1500 | HALF | HALF |
OR 10505216 | | 0.5 | 1.0 |
————————————————————–
9. Dorfner, Gary |1210 | B 4 | W 5 |
WA 10511780 | | 0.0 | 0.5 |
————————————————————–