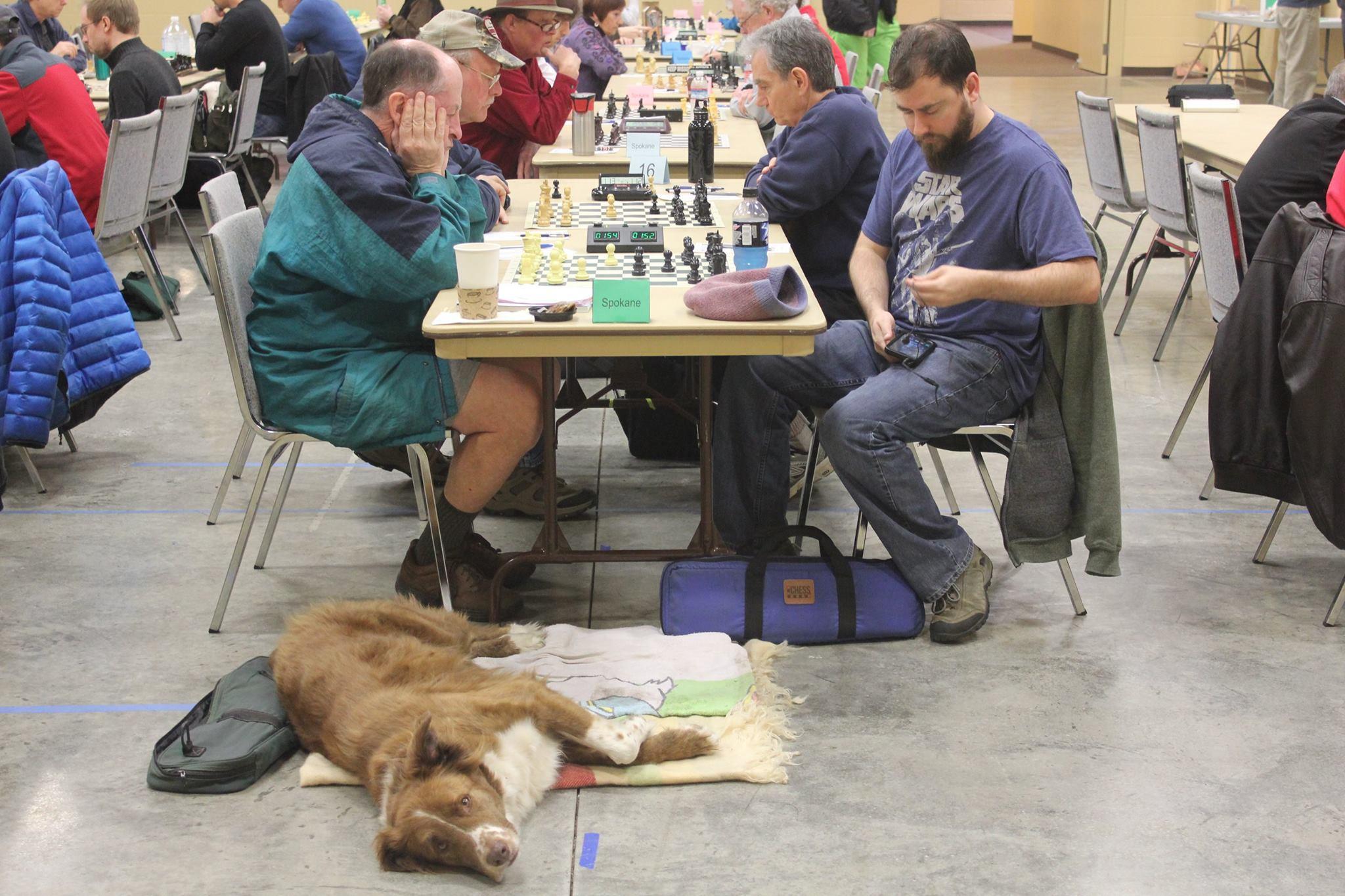 Photo Credit: James Stripes.
From Spokane CC website:
"CAMBARERI, MAKI WIN 24th COLLYER MEMORIAL
NM Jim Maki of Coeur d'Alene and Michael Cambareri each scored 4.5 to share top honors in the 24th annual Dave Collyer Memorial played February 27-28, 2016. Third place (4.0) was shared by Viktors Pupols, David Arganian, Steve Merwin, and Mika Mitchell (with Arganian being top Expert, and Merwin & Mitchell topping the class A category). This year's event, played in Millwood, drew 59 entries (plus two house players).
Top seed Maki suffered a second round draw, moving second seed Pupols to board one for the rest of the event. The two met in the fifth round while Cambareri battled Mark Havrilla on board two. Cambareri's attack broke through and gained him the point. Meanwhile, Maki and Pupols battled until they were the last game going. Maki pulled out the win and joined Cambareri on top — the first Collyer victory for each of them.
There were a lot of other prize winners. First place in class B went to Steve Buck (3.5), with a crowd of Steve Fabian, Dan McCourt, Jim Skovron, and Jeremy Younker sharing second at 3.0. The two class C prizes went to youth — Nick Havrilla and Garret Casey each scored 3.5 to win their class prizes. Five players scored 2.0 to share the class D prizes: Arlene Bodie, Hedda Campbell, Jeff Jaroski, Colin Phelps, and Bill Rottmayer. The class E and unrated first prize went to Anthony Raelund (3.0), while another newcomer, Dr. Shancie Wagner (2.0) claimed the second prize.
There were quite a number of upsets, including eight victories over opponents rated at least 300 points higher. The prize winners were Cecelia Valeriote (687) and Ted Baker (486).
The unofficial prize for the furthest travel to the tourney once again belongs to Jerry Morton — this year he came all the way from Tashkent, Uzbekistan! Jerry had to depart after the Friday night events, but has already promised to return for next year's tourney!"
US Chess Xtable CLiCK HERE.
For more photos by James Stripes CLICK HERE.