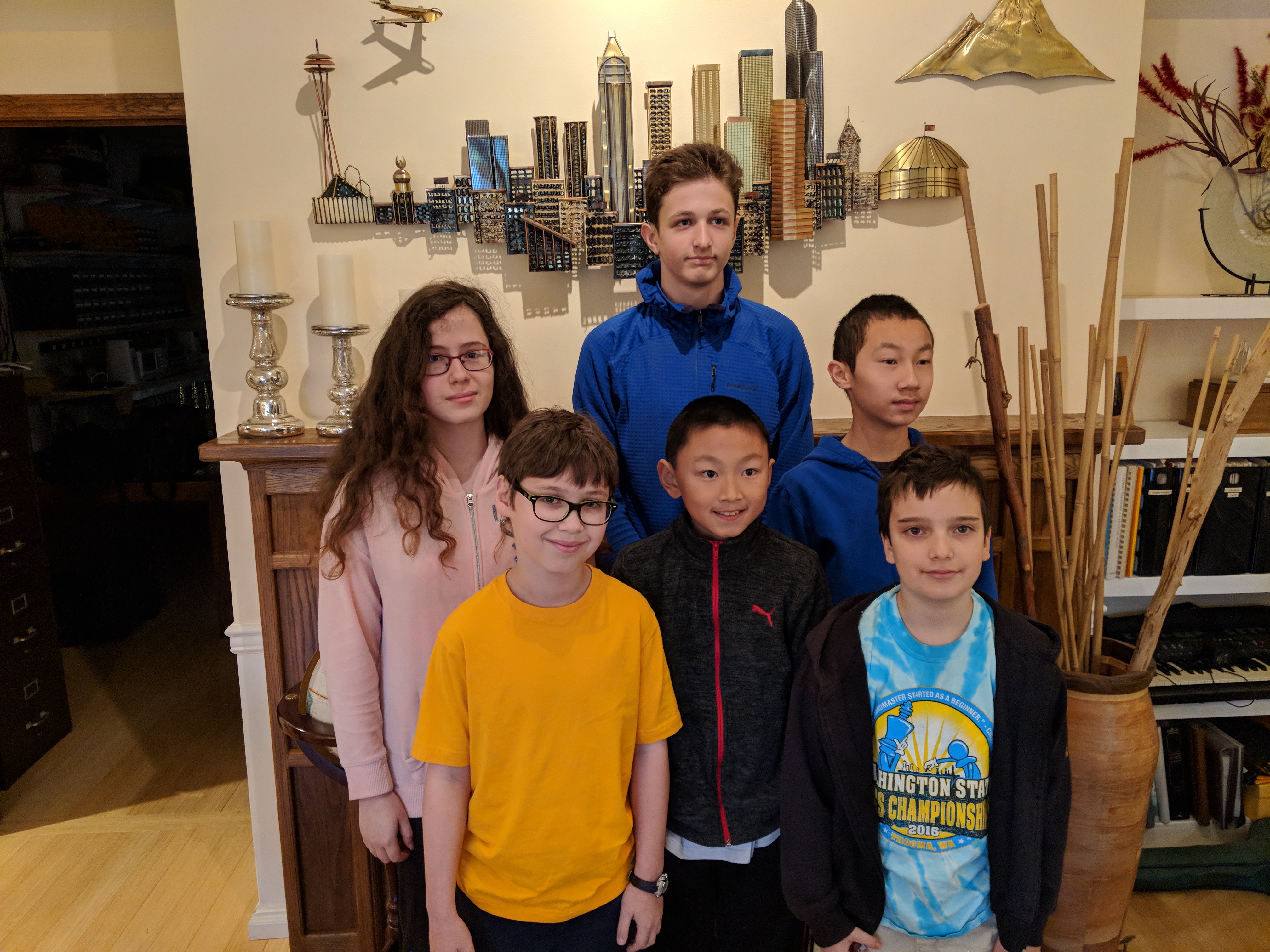 Congratulations to Anthony He for winning the WA Junior Closed Jan 5-7 with a perfect 5.0 score.  Naomi Bashkansky placed 2nd,  and there was a tie between Oscar Petrov and Daniel Shubin for 3rd place.
Prize winnings:
                $200 Anthony He, and seeded into the WA State Championship
                $170 Naomi Bashkansky
                $65 Oscar Petrov
                $65 Daniel Shubin
This was the youngest field we have had in a long time with one high schooler, 4 middle schoolers, and 1 elementary aged player.  The US Chess Rating Report can be found here.
SwissSys Standings. WA Junior Closed:
| | | | | | | | | | | | |
| --- | --- | --- | --- | --- | --- | --- | --- | --- | --- | --- | --- |
| # | Name | ID | Rtng | Team | Grd | Rd 1 | Rd 2 | Rd 3 | Rd 4 | Rd 5 | Tot |
| 1 | Anthony Bi He | 14729222 | 2316 | ING | 7 | W2 | W4 | W6 | W3 | W5 | 5.0 |
| 2 | Naomi Bashkansky | 14048474 | 2029 | OMS | 9 | L1 | W5 | W4 | W6 | W3 | 4.0 |
| 3 | Oscar Petrov | 14702968 | 1902 | OVL | 8 | W4 | L6 | W5 | L1 | L2 | 2.0 |
| 4 | Daniel Shubin | 15185684 | 1932 | OPW | 7 | L3 | L1 | L2 | W5 | W6 | 2.0 |
| 5 | Joseph Levine | 15694597 | 1923 | EPS | 5 | W6 | L2 | L3 | L4 | L1 | 1.0 |
| 6 | Eric Zhang | 14668426 | 2034 | LMS | 6 | L5 | W3 | L1 | L2 | L4 | 1.0 |