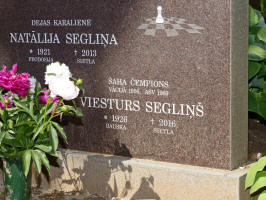 Photo: Viesturs Seglins final resting place in Jaunsaules cemetery. "Sietla" is Latvian for Seattle. He had taken care of the monument modestly, with the hope that it would become a beautifully manicured area. (Photo: Leva Valtere). The tombstone says he was champion of Germany 1956 and ASV in 1969. I'm not sure what those are referencing, but he was Washington State champion in 1958 and 1962. His wife, Natalie was formerly Natalya (maybe Natalie) Holden, and very likely was born with a different last name. She played in some chess tournaments in the Seattle area; I believe in the mid-1970s. The tombstone says she was born in Feodosija (Feodosia in English), which is in the Crimea near Kerch. I believe, but am not certain, she was Russian. - IM John Donaldson.
See March 2016 edition of Northwest Chess.
Replay the game featured in the March 2016 article, where Seglins achieved a quick win versus Peter Lapiken at the 1968 US Open in Aspen, Colorado:
https://www.chessgames.com/perl/chessgame?gid=1912543.
See the list of Washington State chess champions (Seglins won in 1958 and 1962).