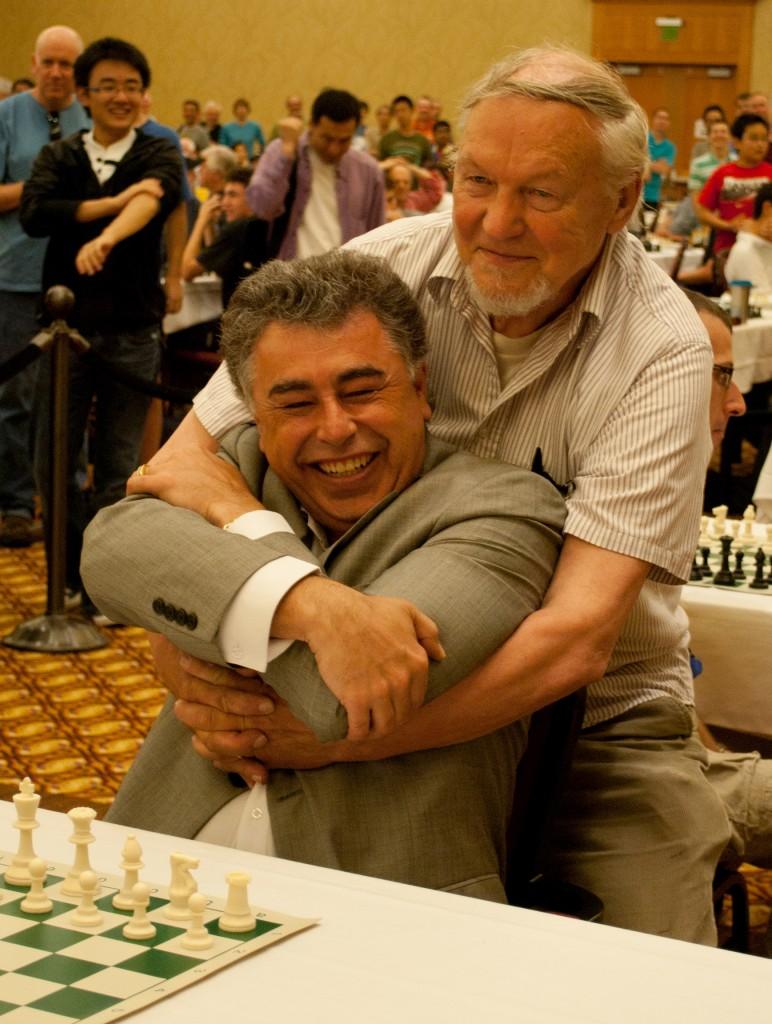 GM Manuel Leon Hoyos won an Armageddon playoff with the white pieces to earn the title of 2012 United States Open Chess Champion. Hoyos finished with an 8-1 record, the same as GM Dmitry Gurevich and FM John Bryant of California. The top two players on tiebreak (Hoyos and Bryant) were seeded into the playoff for an extra $200 in prize money and the championship trophy. An Armageddon style playoff is a one game blitz match of 5 minutes vs. 3 minutes (in this case with 5 second delay), black having draw odds. Hoyos is the reigning Mexican Champion currently attending Webster University in St. Louis. Bryant, as the first American finisher on tiebreaks, will be seeded into the next U.S. Closed Championship, assuming that the current qualifying rules remain unchanged for 2013. The final crosstable is located here.
Report from Rusty Miller
Results of Clark County Players (local to Vancouver, WA):
Andy May 6.5 points out of 9 games played
Samir Sen 5.5 out of 8
Matthew Goshen 4 out of 6
Alec Ho 5 out of 8
Daniel Ho 5 out of 8
Viajko Lakic 5.5 out of 9
Micah Smith 5.5 out of 9
Becca Lampman 5 out of 9
Sarah May 4.5 out of 9
Aaron Nickoski 4.5 out of 9
Milton Colpron 4 out of 9
Frederick Davis 3 out of 8
Jon Strohbehn 3.5 out of 8
Russell Miller 4 out of 9
James Schroeder 3.5 out of 6
Richard Banner 3.5 out of 9
Alexander Barrett 3 out of 9
Joshua Feener 3 out of 9
Rick Nicoski 2 out of 8
Greg Bradburn 2 out of 9
517 players total with 19 from Clark County. Three players tied for 1st place with 8 points out of 9: Grandmaster Manuel Hoyes of Mexico, Grandmaster Dmitry Gurevich of Illinois and FIDE Master John Bryant of California.
The United States Chess Federation hopes to return to the Pacific Northwest in the next 6-10 years. The 114th US Open will be in Madison WI. and 115th in St. Louis MO.
The event is held once a year and moves around the country. It was last held in this area in Portland Oregon in 1987 with 532 players and 1966 in Seattle Washington with 201 players. 8 players who played in Seattle also played in Vancouver.
Andy May played in the one day Blitz tournament and tied for 7th to 14th place. 129 players took part. Sarah May placed 2nd in the 2012 US Women's Open.
People who played in Seattle 1966 and Vancovuer 2012:
Rusty Miller
Mike Murray
Joe Brandenburg
Anthony Saidy
Ronald Gross
Sam Sloan
Viktors Pupols
David Rupel
Historic photo reenacted (Pupols & Seirawan) click here. From the Idaho Chess Association web site.
Webster University makes a clean sweep.
Top Northwest & BC finishers (6 or more points out of 9):
GM Seirawan, Yasser WA 2674 7.5
Breckenridge, Steven OR 2349 7.0
FM Raptis, Nick OR 2330 7.0
Sohal, Tanraj S BC 2199 7.0
FM Roper, David WA 2288 6.5
Lee, Nathan Y WA 2123 6.5
May, Andy P WA 2121 6.5
Erichsen, Dan BC 2104 6.5
Lee, Megan WA 2101 6.5
Esler, Brian John OR 2060 6.5
Zavortink, Matt WA 2051 6.5
Tobin, Sean OR 2025 6.5
Saputra, Yogi OR 1990 6.5
Sinanan, Joshua WA 2259 6.0
Gay, Daniel OR 2212 6.0
Pupols, Viktors WA 2200 6.0
Greninger, Harley G WA 2197 6.0
Lessler, Peter WA 2177 6.0
Patterson, Roger BC 2165 6.0
Edwards, Derek WA 2163 6.0
Yu, Corbin OR 2150 6.0
Wang, Michael WA 2148 6.0
Sellers, Matthew B OR 2128 6.0
Rupel, David WA 2109 6.0
Dixon, Dakota WA 2108 6.0
Kleist, Frederick K WA 2098 6.0
FM Bartron, Paul R WA 2096 6.0
Herrera, Robert OR 2044 6.0
He, Daniel Ming WA 2030 6.0
Arganian, David G WA 2002 6.0
Rowles, David WA 1939 6.0
Robinson, Marcus OR 1898 6.0
Warrier, Krishnan V WA 1885 6.0
Kiiru, Joseph K WA 1833 6.0
For USCF online coverage by Al Lawrence, click here.
Gary Dorfner's final US Open report:
US Women's Open
There were only 6 players taking part in this event.
The winners were: 1st Chouchanik Airepetian from WA
4.5 $650.00, 2nd Sarah May from WA 4.0 $400.00,
3rd Sandra Pahl from WI 2.5 $275.00, 1st U2000
Naomi Bashkansky from WA 2.0 $225.00, 1st U1800
Dawn Fields from WA 1.5 $225.00, 1st U1600 Emily
Saletan from WA 1.0 $225.00.
Prize amounts US Open Main Event
The winners were: 1st-3rd GM Manuel Leon Hoyos from Mexico, a student at Webster University in St. Louis, GM Dmitry Gurevich from IL & John Daniel Bryant from CA 8.0 $4667.00 each. Hoyos also won the $200.00 Playoff Bonus, 4th-8th Yasser Seirawan from WA and the Netherlands, Alexander Shabalov from PA, Andre Diamant from Brazil, also a student at Webster University, Justin Sarkar from NY & Salvijus Bercys from NY 7.5 $820.00 each;
Master 1st-4th Deepak Aaron from NY, Steven Breckenridge from OR, Ian Thompson from England, Nick Raptis from OR, Kevin Mo from PA, Sean Vibbert from IN, Francisco Guadalupe from TX 7.0 $643.00 each;
Expert 1st Tanraj Sohal from BC 7.0 $2400.00, Expert 2nd-4th Daniel Gater from IN, Nicholas Karas from CA, Jeremy Mandelkern from FL, Steven Cooklev from IN, Nathan Lee from WA, Andy May from WA, Dan Erichsen from BC, Megan Lee from WA, Andrew Rea from VA, Zhaozhi Li From IL, Joshua Sheng from CA, Brian Esler from OR, Matt Zavortink from WA, Sean Tobin from OR 6.5 $150.00 each;
1st Class A Yogi Saputra from OR 6.5 $2400.00. 2nd-4th David Rowles from WA, Marcus Robinson from OR, Krishnan Warrier from WA, Joseph Kiiru from WA & Jennifer Skidmore 6.0 $420.00 Each;
1st Class B Howard Zhong 6.0 $2400.00, 2nd-4th Yu Ji from BC, Ethan Neff from WA, Christopher Burris from OR, Tian Peng from IL & Aaron Grabinsky from OR. 5.5 $420.00 each;
Class C 1st-4th Ranjeet Singh from WA, Ben Brusniak from WA, Brian Liou from WA & Bert Rutgers from WA 5.0 $950.00 each;
Class D 1st-2nd Chris Devon from CA & Wesley Esko from WA 5.0 $1100.00, 3rd-4th Valentin Molchanov from OR & Karl Cui from BC. 4.5 $300.00 each;
1st Class E Edward Strong from WA 4.5 $1200.00, 2nd Geoffrey Kenway from OR, 4.0 $600.00, 3rd-4th Jonathan Yau from OR, Terrance Li from WA, Pavel Buzek from WA, John Ornes from OR, Brian Chen from WA, Audrey Whitmer from WA & Rinna Yu from BC 3.5 $86.00 each;
Unr. 1st John Dimick from WA. 5.0 $700.00, 2nd Eric Pacini 4.5 $400.00 3rd Corey Tache from OR, 4.0 $200.00.