Two important events recently concluded in Portland:
2014 Portland Chess Club Championship
This 5-round 16-player event, held on consecutive Tuesdays September 30-October 28, ended in a three-way tie, with Nick Raptis, Brian John Esler and Alex Grom scoring 4 of 5 points, each losing only one game to one of the other co-winners. See the USCF crosstable.
Oregon Class Championships
The Oregon Class Championships were held November 1-2, 2014 at the Lloyd Center DoubleTree Hotel, sponsored by the Oregon Chess Federation. Winners by class were as follows: Master/Expert – Aaron Grabinsky and Yogi Saputra (4 of 5 points); Class A – Seth Talyansky (4 of 5) with two draws; Class B – James McAleer and Aaron Nicoski (4 of 5) each with two draws; Class C – Jack McClain (4 of 5) with two draws; Class D (U1400) – Tony Midson and Karl Wallulis (4 of 5) each with either two draws or a draw and half-point bye. Both raised their rating to over 1400. See the USCF crosstable.
Photo description (by Mike Morris): The C Section had a stand-alone winner in the person of Jack Woo McClain, who turned his 4.0 points into hard cash, to the tune of $260—a lot of money for a very young player, who should have taken pity on a second-round player who must be nearly seven times his age!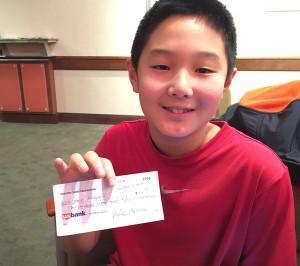 Jack Woo McClain shows prize check from Oregon Class.